Shopping Cart
Your Cart is Empty
There was an error with PayPal
Click here to try again
Thank you for your business!
You should be receiving an order confirmation from Paypal shortly.
Exit Shopping Cart
A Christian Connection News Source
| | |
| --- | --- |
| Posted on November 8, 2013 at 10:26 PM | |
"Miles Williams Makes It To The Big League"
Parental love and support is an important element in developing the dreams of young people.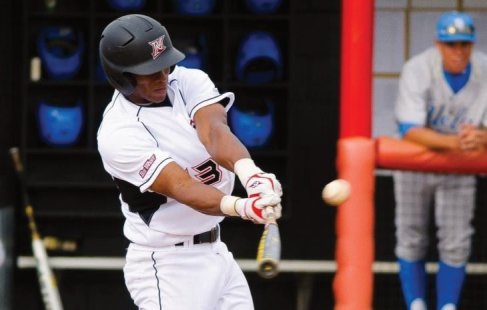 God has certainly blessed an outstanding athlete, Miles Williams of Winsdor, CA, with amazing parental guidance, love and support. Because his parents, Walter and Marilyn Williams, recognized and nurtured his talents, Miles remained focused on his targeted plan to become a major league baseball player.
His tenacity paid off in June 2013 when he had the opportunity of a lifetime offered to him - In his first year of eligibility at Cal State Northridge, he was selected in the 15th round of the MLB Draft by the Miami Marlins.
His Mother, Marilyn, forwarded an email to all that had played a part in supporting their efforts to embrace their son's dream of making it in the "Big League".  This heartwarming email to Marilyn's family and friends is a true testament of love for her son. It reminds me of how God's love embraces us as we journey through our trials and tribulations. Just as Walter and Marilyn never left the side of thier son - God remains with us, carrying us when we grow weary of our situations. I pray that you will remember this Mother's message to let it remind you of God's love as it relates to your problems whatever they may be. Selah
Hello All,
I have attached the story that Cal State Northridge published today about Miles. This has really been a tough year for him. Most of you know that he fractured a bone in his right foot while playing a game in left field. He played the ball off the wall, turned to throw it and felt excruciating pain. He had no idea of the extent of the injury, but by day 3 of pure agony, he knew something was very wrong.
The visit to the podiatrist with his head coach and me on the phone dealt him a heartbreaking blow; he was out for the season with a Jones fracture. The doctor told us that his best bet was to have surgery because that was the only way he would heal 100%. That hurt him so much. I went down a week later for the surgery and it went well. They started physical therapy a week later and of course he thought he was ready to go back out in four weeks. It took eight weeks and their last series, for him to get back on the field. He had a great comeback and a standing ovation from both teams. I wish I could have been there to see that, however I'm so very happy that Walter was there instead.
Miles has always wanted to play baseball; no other sport could take the place of the bat and the ball. I remember once when his 12 year old team and families went to watch the Texas Rough Riders play in Frisco, Texas. After we all got in the stadium, Miles came up missing, we couldn't find him anywhere. Someone finally spotted him on the field warming up with the Minor League team. After running a fly ball down in the stands and since he was wearing his team uniform, the players invited him to come down and warm up with them. That was a great day for him! When Miles was about 9 years old we also met "POD", a religious rock band in St. Louis, at Walter's family reunion. All the kids were asking for their autographs, well all except Miles. He asked them if they wanted his autograph because he was going to be a pro baseball player someday. They took his autograph and couldn't believe the kid had so much confidence; hope they kept it. He has a long road ahead of him but he's on his way to living his dream!
Miles has completed his junior year in college at Cal State University Northridge and is really looking forward to this opportunity to get better in the big league. Walter and I support his decision 100% and since the MLB will pay for him to finish up college later he just can't seem to lose. Hopefully he will finalize his plans in the next few days and then hit the road to do what he wants to do. Please keep him in your thoughts and prayers.
Thank you all for your support of Miles over the years, even when you thought we were nuts for spending all our vacations at baseball tournaments. This kid has given Walter and I more joy than words could ever express. You know what? He's happy so we're happy! To Uncle Rod in heaven, thanks for telling him at age 4 what to do with the bat once he hit the ball, "Drop the bat and run".
God Bless each of you.
Much Love,
Marilyn
"Narrow is the way . . . ."
Categories: Cost of Disobedience, Encouragement, Family, God's Plan, Growth in Christ, Health, Obedience, Perserverance, Promises, Sacrifice, Spiritual Order, Sports, Success, Trust, Unconditional Love
/