Shopping Cart
Your Cart is Empty
There was an error with PayPal
Click here to try again
Thank you for your business!
You should be receiving an order confirmation from Paypal shortly.
Exit Shopping Cart
A Christian Connection News Source
"Return unto me and I will return unto you…"  Malachi 3:7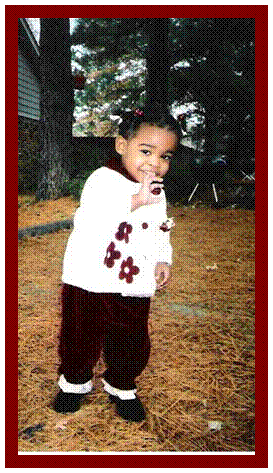 Little Anna is my first granddaughter and consistently fills my life with love and joy.  Anna and her "Mimi" (as I am called) have always had our "special time" together.  Usually, it's cooking (Anna likes to stir) or giving ourselves manicures, shopping at Wal-Mart or attending church.
"My Little Anna"
Anna started to attend church with me when she was a baby.  Later on, when she started to walk, it was placed on my heart to teach her the basic principle of giving.  She quickly learned that giving was good.  Each Sunday she proudly placed her money "on the table". 
As Anna approached her second birthday, the Lord placed it on my heart that she was old enough to understand the principle of tithing.  Once again, we had one of our serious talks - explaining in 2 year-old terminology giving 10% back to the Lord and the importance of placing the money in the "tall box", instead of "on the table".  I really didn't expect Anna to grasp the concept of 10% (although I gave it my best shot).  However, I did expect her to understand the importance of giving a marked portion back to Him. 
Now, at 10 years old, Anna understands the concept of tithing and that she is being obedient to God's Word when she willingly gives her marked portion back to Him.
Anna did not know the concept of math at 2 years old – but she did grasp three important things:
1.     Giving is good
2.     It is important to pay your tithes
3.     And you have to put it in the tall box!
Train up a child in the way he should go: and when he is old, he will not depart from it. Proverbs 22:6
/